Posted on July 21st, 2016
Do you ever find yourself arriving home from work to a cold house? With this project from kohleick you can send your heating system an SMS while you are driving home, and arrive to a toasty warm house. The controller runs off an Arduino Uno and custom shields which control timing, temperature measurement and telecommunications. Kohleick has designed the controller to fit unobtrusively into a picture frame. The controller has full functionality including six operating modes, temperature measurement and full SMS control. Additionally, the heating controller features a phone book which specifies which numbers can send commands to the heating system.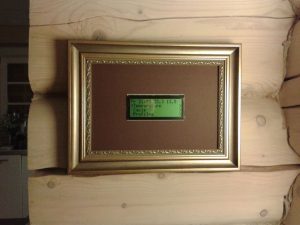 This is a great project to integrate into a home automation system and could potentially help you save big on energy bills. Although it is quite a complicated project, the instructions are well set out and explained. To get started check out the following link.  
Want to learn more about awesome automation hacks like this? Subscribing to SuperHouse Automation on YouTube is the best place to start!
Thinking about making your own automatic brewing system? Have a project you would like us to feature in this blog? The team at SuperHouse Automation would love to know! Tell us about it in the comments section below or on Facebook and Twitter.