Posted on July 8th, 2016
Being able to open and unlock a door with the quick touch of an RFID tag adds a new dimension to managing access to your home or office. Gone are the days of fumbling in the dark trying to find the right key for the particular door you are trying to open, or having to keep track of all the different sets of keys you have had cut. With an RFID enabled electronic door you can open your door with a simple "tap", easily and securely manage who has access and even keep a log of who has opened the door. If you are keen to get started check out our video about how we added RFID to the door of our office:  
Although this project sounds difficult, with many electronic door locks commercially available it is really a simple matter of configuring the RFID reader to trigger the electronic lock. Indeed, the RFID Door Lock Shield from Freetronics provides a fantastic and simple interface between the RFID reader, your Arduino Compatible board and the electronic lock. For more information visit the RFID Door Lock Shield page.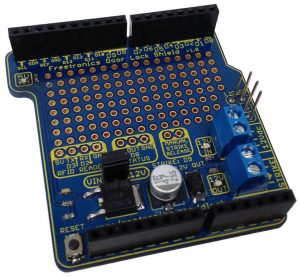 Want to get started creating your own home automation system? Subscribing to SuperHouse Automation on YouTube is the best place to start!  Inspired to add an RFID door to your home or office? The team at SuperHouse Automation would love to know! Let us know in the comments section below or on Facebook and Twitter.
Posted on May 9th, 2013
In 2007 there was a lot of argument about putting RFID tags into Australian passports, and many people were saying we were destined for a future where everyone was implanted with RFID so they could be tracked by the government and large corporations. I wanted to understand the technology and the risks involved, so I did the only logical thing: I implanted an RFID chip in myself!
I've shown use of my implanted RFID chip in previous SuperHouseTV episodes, but this is the first time I've shown the footage of me actually implanting the chip in myself.
View on YouTube: www.youtube.com/watch?v=Kv_OG7zG7ro