Posted on September 22nd, 2016
If you have managed to blink an LED using an Arduino you should be able to easily build this project! ToughRocket52 has put together a fantastic instructable which teaches you how to build your own Arduino controlled disco lights. Not only do these disco lights look fantastic but you could very easily modify the project to make disco lights in any shape or form! THey would make a great addition to your smarthome. To find out more check out the following link.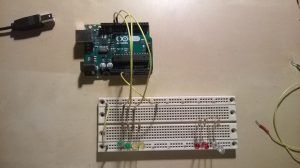 If you are looking for an Arduino board to work on this hack the team at SuperHouse automation recommends the Freetronics "Eleven" Arduino Compatible Board.  
Want to keep in the loop about the latest in home automation? Subscribing to SuperHouse Automation on YouTube is the best place to start!
Working on your own home automation projects? The team at SuperHouse Automation would love to know! Tell us about it in the comments section below or on Facebook and Twitter.